US strengthens military ties with Indonesia as tensions rise with China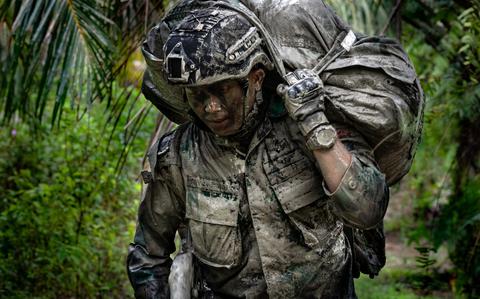 PALEMBANG, Indonesia — Military training involving 2,000 U.S. troops and 2,000 Indonesians this month in Southeast Asia's most populous country is a sign of Indonesia's prominence amid tensions with China, security experts said Monday.
The Super Garuda Shield, which began Aug. 1 and ends Sunday, includes smaller contingents of troops from a dozen other nations. It is the largest episode to date of an exercise held every year for 16 years, according to an Army press release Thursday.
The exercise began with US, Indonesian and Japanese soldiers parachuting into a training area on the island of Sumatra on Wednesday.
Sumatra – the largest of Indonesia's 17,000 islands that lies entirely within the country's territory – sits on the equator and is covered in vast rainforests that are home to tigers, elephants, orangutans and rhinos.
Troops who have served in the Middle East may recognize the Islamic call to prayer that resounds in mosques during training. Nearly nine out of 10 people in the country with 275 million citizens are Muslims.
The US Army's 7th Infantry Division, based at Fort Lewis McChord, Washington, oversees US forces involved in the Super Garuda Shield from a base in Baturaja. Division Commander Major General Stephen Smith leads US forces in Sumatra.
The airborne operation, which involved three C-130J Super Hercules from the 374th Airlift Wing deployed from Yokota Air Base, Japan, coincided with amphibious training by members of the Okinawa-based 31st Marine Expeditionary Unit in the alongside Indonesian soldiers on Singkep Island, just 20 miles away. north of Sumatra and south of Singapore.
The amphibious operation took place near a key gateway to the South China Sea, where Beijing has territorial claims that Indonesia does not recognize. The two nations have clashed over fishing rights in recent years.
"Clearly, the South China Sea is a potential conflict zone, although China has been less aggressive towards Indonesia than other closer countries. [Southeast Asian] neighbors," said Ralph Cossa, chairman emeritus of the Pacific Forum think tank in Hawaii, on Monday.
No one involved with Garuda Shield is likely to say the training is for China, he said.
"China is definitely in the back (or front) of everyone's mind, especially after the events around Taiwan over the past few days," Cossa said, referring to Chinese military drills near the area. the island after the visit last week by United States House Speaker Nancy Pelosi.
Indonesia is unlikely to be an arena of conflict involving China, though both Washington and Beijing likely want strong ties with Jakarta given its ability to help shape politics in Southeast Asia and beyond. said Ian Chong, associate professor of political science at the National University of Singapore.
Indonesian President Joko Widodo recently traveled to Beijing as the first major foreign leader to visit China since the Winter Olympics earlier this year, Chong said in an email Monday.
"In the event of a conflict, Indonesia's geographic position and growing capability means it is able to complicate access, communications, and logistics for the United States and [China]," he said. "Such conditions prompt Beijing and Washington to reach out to Jakarta."
Indonesia was a Dutch colony from the 17th century until the Japanese invasion and occupation during World War II, which led to the country's independence after Japan's surrender.
"Indonesia has a strong independent and anti-colonial streak," Chong said. "Efforts to undermine, minimize or underestimate Indonesia are likely to invite a strong backlash."
This month's military exercise helps underscore Indonesia's position as a key regional partner that can bring neighboring Southeast Asian states together, he added.
"Garuda Shield highlights the military aspect of Indonesia's regional role, reinforcing Jakarta's efforts to showcase Indonesia's political and economic importance," he said.
Nations participating in the exercise have an opportunity to deepen their ties with Indonesia, especially its military, Chong said.
Australia, Japan and Singapore participate in the Super Garuda Shield alongside the United States and Indonesia; Canada, France, India, Malaysia, South Korea, Papua New Guinea, Timor Leste and the United Kingdom sent observers to the exercise, according to the army statement.
"Through the exercise, Indonesia also provides a platform for different armies to engage in a different setting and learn more about working together," Chong said.