Twentieth Anniversary Indonesian Music Group in Missoula for Dennison Theater Sunday | Arts + Culture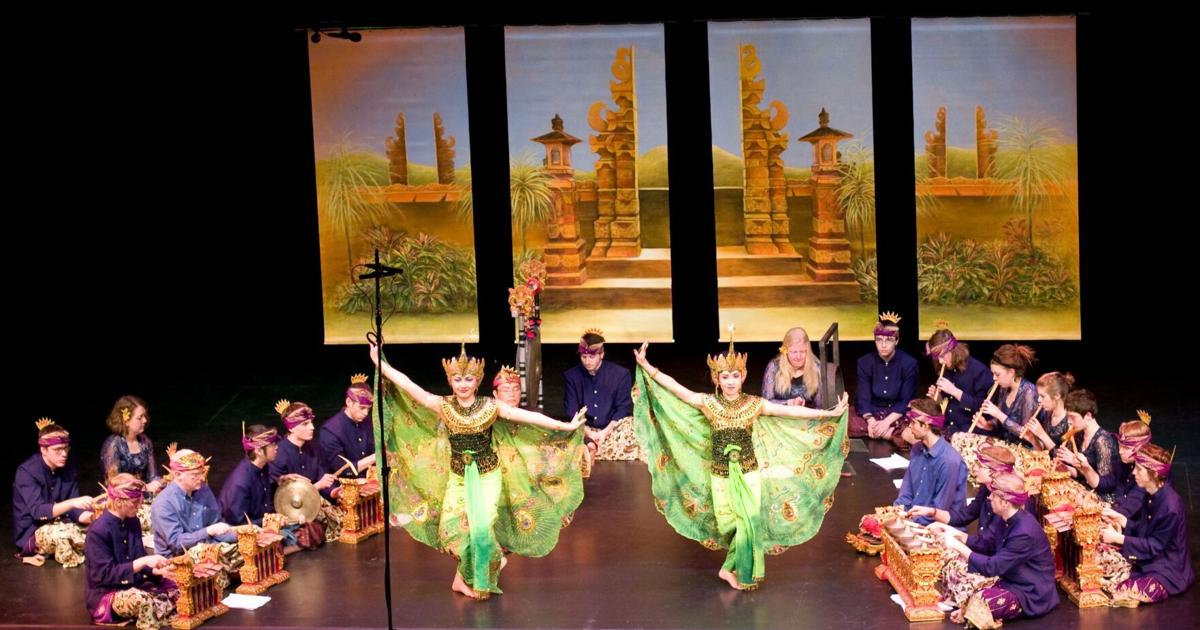 Bright green, gold and navy outfits will splash across the Dennison Theater on Sunday, April 3 for the 20th anniversary celebration of Balinese Gamelan in Missoula. Guest musicians and dancers will join the University of Montana celebration from Bali, Indonesia, performing alongside the Brazilian ensemble and salsa band.
Performances will come from the UM World Rhythms Concert, an annual event hosted by UM's School of Music. The event aims to showcase masterful artists from around the world, like Edi Gbordzi from southern Ghana. Some of these artists work directly with performers for a week before putting on their end-of-spring semester show.
This year, master musicians I Made Lasmawan and his son I Made Tangkas Ade Migaya join the campus ensembles. Master dancers Gede Oka Artha Negara and Ni Ketut Marni will also perform alongside them.
Lasmawan is a drummer and composer from Bali, Indonesia who started UM's gamelan. He typically returns to Missoula every two years to host the World Rhythms Concert, but the pandemic has put some projects on hold for years; some performers were eager to see Lasmawan in action again.
Robert LedBetter, director of percussion studies at UM, said he was a charming and stern character. LedBetter recalled Lasmawan saying "If you miss that note again, you owe me $25." While worth laughing at, it represented Lasmawan's eagle eye for mistakes and dynamic way of engaging his performers, LedBetter said.
Gamelans are traditional Indonesian orchestras that use many percussion instruments, including bronze xylophones, drums and gongs. The UM Jaya Budaya is the Grizzly equivalent. Its title translates to "victory culture," and they performed for the Indonesian Consulate General who traveled to Missoula to see them in 2010, according to UM's World Drum Ensemble page.
"It's otherworldly," LedBetter said. "It's not like any music you've ever heard."
The school sometimes sends music students to Bangah village in Bali, where Lasmawan was born. There, students rigorously study gamelan and Balinese culture for three weeks, and they are taken to important cultural sites like the Temple of the Mother, the holiest, largest and most important temple in Balinese Hinduism. . They also perform for local events such as Hindu temple festivals and a primary school graduation, the page says. The last trip to Bali dates back to 2016.
Also joining UM Jaya Budaya is a local performance group called Manik Harum Community Gamelan, a gamelan from Missoula created by music director Dorothy Morrison in 2007. Manik Harum translates to "a powerful force that makes you feel good like a pleasant aroma," Missoula Gamelan's website said.
The name came to Lasmawan, who is also involved with Manik Harum, during a full moon on February 21, 2008. The gamelan has performed several times around Missoula since birth, and core members include Marni's family, l one of those master dancers of the year.
The celebration will take place at the Dennison Theater on April 3 at 7:30 p.m. Tickets are available on Griztix or by calling (406) 243-4051. The event can also be streamed live via a Griztix link.