TNI recruits thousands of volunteers for COVID-19 vaccination campaign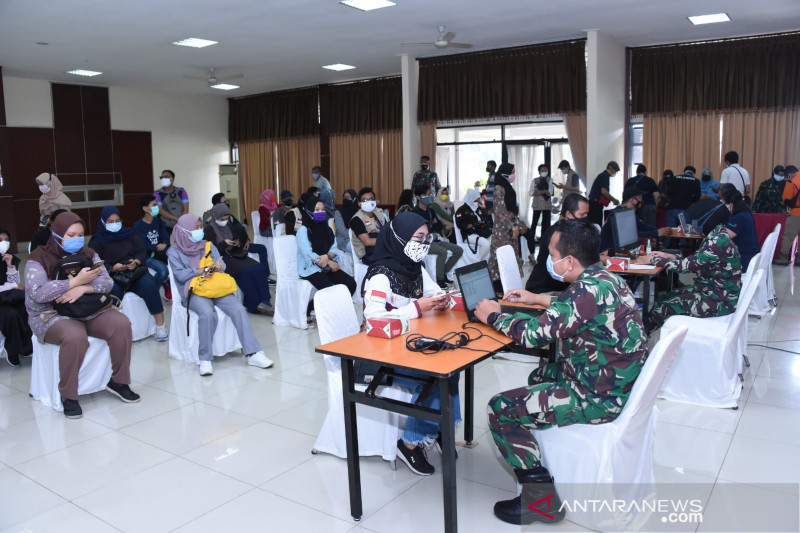 Jakarta (ANTARA) – The National Defense Forces (TNI) on Saturday recruited thousands of medical and non-medical volunteers at TNI headquarters in Jakarta as vaccinators and administrative officers for its mass vaccination campaign against COVID-19.
The volunteers included doctors, students, young people and members of social organizations from Jakarta, Bogor, Depok, Tangerang and Bekasi (Jabodetabek), TNI said.
They will be assigned as vaccinators and administrative officers for the COVID-19 Mass Vaccination Campaign at Gelora Bung Karno Sports Stadium (GBK) and JIExpo Building in Jakarta on Sunday, July 11, 2021.
The TNI chief's assistant for territorial affairs, Major General Madsum, said TNI chief Marshal Hadi Tahjanto had ordered the recruitment of volunteers to speed up the vaccination program.
TNI chief aims to vaccinate over 70% of citizens over 12 in and around Jakarta ahead of Independence Day commemoration on August 17, 2021 as part of efforts to secure herd immunity against COVID-19, he added.
"To this end, we need over three thousand additional people made up of volunteers including medical workers and administrative officers. Registration is underway today. We have announced to partners and community members of s 'register as volunteers,' Madsum said in a press release. .
The TNI health center will coordinate volunteers for the vaccination program organized by TNI and other agencies in and around Jakarta.
Through the mass vaccination campaign at the GBK stage and JIExpo Kemayoran on Sunday, TNI aims to vaccinate 50,000 people – 35,000 at the GBK stage and 15,000 at JIExpo.
"This (vaccination campaign) will continue until we reach 70% of herd immunity. Tomorrow, the Indonesian Army Headquarters and the Jakarta Regional Military Command, in cooperation with TNI Health Center and Four Pillars, will carry out vaccination in 10 district military commands. is the initiative of the head of the TNI to soon achieve 70% collective immunity, "said Madsum.
Related news: Over 35.7 million Indonesians received first dose of COVID-19
Related News: TNI chief considers public participation in immunization as health hero
Related news: Jakarta deploys mobile ambulances to expand immunization coverage