TNI provides assistance to Papuans displaced by attacks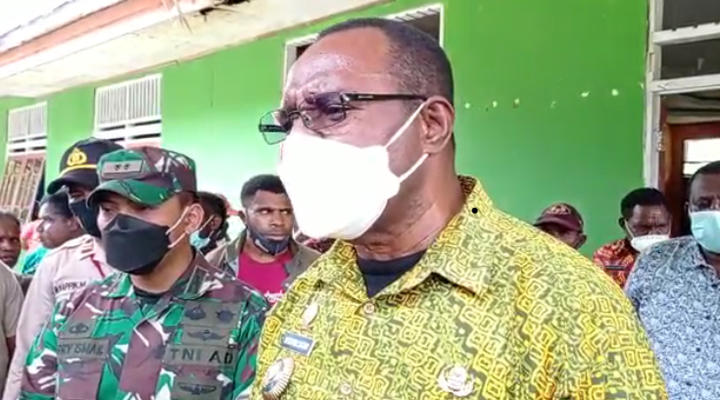 The Indonesian military has said it is supporting villagers in West Papua displaced after the recent deadly violence in Maybrat regency.
The army, or TNI, has also coordinated with local authorities to facilitate the return of displaced people.
Several thousand people are estimated to have fled after independence fighters from West Papua attacked the Kisor Koramil military post in Maybrat earlier this month.
Four Indonesian soldiers were killed and many more injured in the attack. A manhunt is underway for the culprits.
Colonel Hendra Pesireron, spokesperson for Kasuari XVIII military command spokesperson, said they had provided food, sanitation and clothing relief, as well as logistical support to communities in several districts of Maybrat.
This includes assistance to residents of villages that housed displaced people from other parts of the region, while engineer capabilities have been deployed to repair damaged transport infrastructure in the region.
According to Pesireron, the Indonesian army was ready to help displaced communities return to their villages safely, in coordination with Maybrat's regent, Bernard Sagrim.
A West Papua faith group told RNZ Pacific earlier this month that Papuans who had fled the violence feared military mobilization and were unsure of their safety.
However, Sagrim reached out to a number of displaced communities to assure them of their safety.
He told people not to be afraid of the military and police apparatus in their area, saying the security forces were there to provide protection.
Sagrim said residents returning home would be escorted and their return would be facilitated by the government.
A faction of the West Papua Liberation Army claimed responsibility for the deadly attack on the Maybrat military post.
Other regencies that have seen recent violent attacks involving the Liberation Army and Indonesian forces since 2018 include Intan Jaya, Puncak Jaya, Nduga and in recent days also Pegunungan Bintang Regency.
Deadly attack in Oksibil
Indonesian authorities blamed the Liberation Army for another deadly attack this month in the remote Oksibil district of Pegunungan Bintang.
The attack resulted in the destruction of a classroom and a health center in the district, near the border with Papua New Guinea.
A medical worker was killed in the attack, with local authorities saying dozens of Liberation Army members also attempted to stab several other medical workers before they managed to escape.
However, Papuan sources claim that the Indonesian armed forces were behind the attack which destroyed public facilities as an attack on the Liberation Army.
Independence fighters also destroyed equipment used by an Indonesian construction team for the Trans-Papua Highway project in the same district this month.