Soldiers distribute "sembako" to villagers of Yuwainda in Keerom, Papua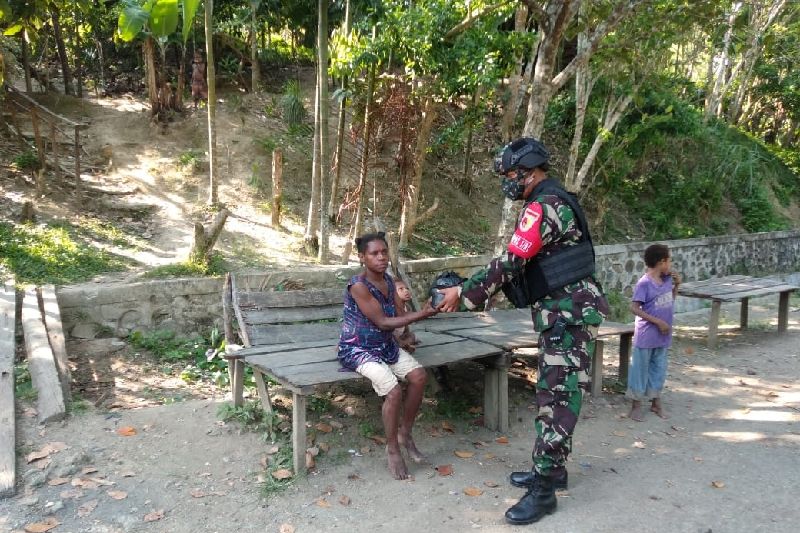 We thank the TNI soldiers, who gave us "sembako". We feel helped by their presence here. May almighty god bless them
Keerom, Papua (ANTARA) – Soldiers stationed in Yuwainda Village, Yaffi Subdistrict, Keerom District, near the Indonesian-Papua New Guinea border, expressed their care and solidarity with local residents by distributing "sembako", or packages of basic foodstuffs, to them.
The distribution of "sembako" to the villagers was recently carried out by members of the Karang checkpoint of the Indonesia-PNG Border Security Working Group of the Mechanized Infantry Battalion 512 / QY.
"The villagers of Yuwainda praised this community service," noted task force commander Lt. Col. Taufik Hidayat in a press release quoted by ANTARA on Tuesday.
Marice, a local resident, was quoted in a press release as saying she was grateful for a basic food package her family received from army personnel stationed at the Karang checkpoint.
Related News: Swimming, Climbing Athletes Prepare for Papua PON XX
"We thank the TNI soldiers, who gave us 'sembako'. We feel that their presence here helps us. Almighty God bless them," said the 44-year-old woman.
The distribution of basic food packages to villagers in Yuwainda was led by the commander of the Karang checkpoint, 2nd Sergeant Gaintoro, Hidayat noted.
ANTARA had previously reported Indonesian soldiers deployed to Papua to help residents through community services involving the provision of basic foods, health care, a mobile library, volunteer education and street cleaning programs.
Last month, amid a resurgence of COVID-19 cases, seven soldiers donated bags of rice to indigenous Papuans in Baidub Village, Ulilin Subdistrict, Merauke District.
Related News: Two-Day Mass Vaccination Events Held Simultaneously in Papua
"We have shared a bit of what we are getting with our Papua brothers and sisters," remarked Lt. Col. Albert Frantesca, commander of the 611 Infantry Battalion / Indonesia-Papua New Border Security Working Group. -Guinea of ​​Awang Long.
The rice was distributed to residents by the commander of the border security checkpoint, Second Lieutenant Nyoman, and six soldiers. The donation should help ease the burden on the villagers.
In February of this year, several soldiers from the 756 / WMS Infantry Battalion Security Task Force provided mobile health services to residents of Beanekogom Village, Tembagapura Subdistrict, Mimika District.
Such health services have been offered regularly as part of the task force's community service initiatives to ensure residents are healthy, officials say.
Task Force Commander Major Marolop Edison Bala Hutapea said TNI is aware of the difficulties faced by local residents and maintains an emotional connection with them.
Sincerity in conducting community services and addressing the needs of local communities would help ensure that IWT security posts are useful to them, he added.
Related news: Swimming, climbing athletes prepare for Papua PON XX
Related News: Freedom of Learning to Free the Minds of Teachers and Students: KSP