Russian invasion should prompt Indonesia to rethink its nuclear plan – Universities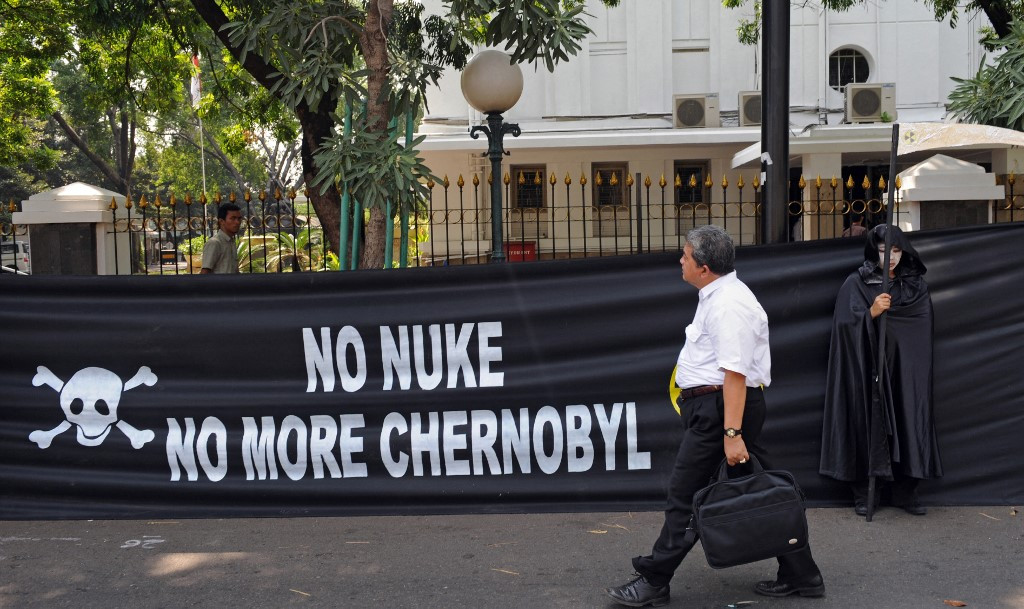 Alan Marshall (The Conversation)
Bangkok, Thailand ●
Mon 28 March 2022

2022-03-28
15:55
0
22dc95a23fb944820adae5904f4c8411
2
Academia
Indonesia, Russia, Nuclear, power station, environment, energy, China, geopolitics
Free

In 2011, as Indonesia planned to launch a nuclear power program, a giant warning sign crashed down from Japan: the Fukushima nuclear disaster. The disaster was triggered by a massive tsunami and caused radioactive pollution to spread over part of the Japanese countryside and across the Pacific Ocean.
As Fukushima fades into the past, Indonesia, Southeast Asia's largest economy, wants to forge ahead with nuclear power. The government plans to use the first nuclear power plant to supply national electricity by 2040.
However, there is another big warning sign regarding Indonesia's nuclear option, this time coming from Europe. The Russian invasion of Ukraine shows how attractive and easy a target nuclear sites are for an enemy or an invader. Over the past month, Russian troops have attacked and then taken over a number of nuclear power plants in Ukraine.
I think the Russian invasion should be an additional factor for Indonesia to rethink its nuclear energy project.
The lesson of Chernobyl
Indonesia is not likely to go to war with anyone anytime soon. However, parts of the archipelago could be drawn into an Asia-Pacific conflict if, for example, China emulates Russian imperialism and pushes to conquer Taiwan. This would put China in direct conflict with the United States and Australia in neighboring waters.
Whether Indonesia takes sides or not, it could still be drawn into a war as a perceived ally or enemy, or as a middle ground war zone. In Europe, at the moment, Belarus, Poland and Moldova are embroiled in the Russian-Ukrainian war as they seek to navigate strained relations with allies and enemies.
Also in Europe right now, the specter of a "new Chernobyl" is rapidly emerging as Russia targets Ukraine's various nuclear power plants. Chernobyl in Ukraine was the site of the world's worst nuclear disaster in 1986 (at the time Ukraine was part of the Soviet Union).
More than 350,000 people were evacuated during the disaster and its management cost more than 235 billion US dollars.
A man walks past a protest by environmental action group Greenpeace over the 1986 Chernobyl nuclear power plant disaster in front of Indonesia's Ministry of Energy and Mineral Resources in Jakarta April 26, 2010 marking the 24th anniversary of the worst nuclear accident to the world in Ukraine and to denounce Indonesia's plans to use nuclear energy. The Chernobyl nuclear disaster occurred in the early hours of April 26, 1986 when a reactor exploded contaminating the then-Soviet states of Ukraine, Russia and Belarus with fallout that also spread to other parts from Europe. (AFP/Romeo Gacad)
According to Greenpeace, a full Russian military assault on Ukraine's nuclear reactors could produce a disaster even bigger than Chernobyl, rendering large swaths of Europe uninhabitable for decades.
Many might believe that the Russian military will not be reckless enough to fire missiles directly at Ukrainian nuclear power plants. But I'm not so sure.
The Russian military could very well ignore the risk of widespread radiological pollution if it believed that firing on a nuclear power plant would provide it with strategic or territorial gain.
Soviet-era relics like President Putin often see the Chernobyl disaster as a small speck in the vast landscape of the "Russian world." Young Russians, too, only seem to know about the Chernobyl disaster from the popular American TV series Chernobyl.
This means that President Putin will probably underestimate the risk and danger of directly bombing Ukrainian nuclear power plants.
If the Russian military finds no reason to launch missiles at Ukrainian nuclear power plants, it can always use Ukrainian nuclear fears for tactical purposes.
It seems to have happened before. When unarmed civilian protesters blocked a column of Russian troops as it marched towards the Zaporizhzhia factory, they clashed for many hours. The Ukrainians only relented when Russian soldiers said they could use weapons against the plant if they could not gain peaceful access. To avoid a nuclear catastrophe, Ukrainian civilians withdrew.
The Russian military ended up firing at the plant anyway and threatened to compromise the plant's security systems if the Ukrainian operators didn't do exactly as they were told. Forest fires caused by Russian bombing also threaten the Chernobyl power plant.
So far during the war, a nuclear disaster in Ukraine has been averted. However, if the war started to go very badly for Putin, he might think about sabotaging Ukraine's nuclear facilities in retaliation. It seems that the Russian army used terrorist tactics and has already been accused of war crimes. The military may not be opposed to applying the same to nuclear sites simply because Europeans are, in its eyes, too sensitive to radiation.
Forget the nuclear plan to encourage a clean fight
What all of this means for Indonesia is that a new nuclear power plant could be a "personal goal" from a security or military point of view.
Nuclear power plants have a lifetime of 40 years or more. However, if you count the remaining nuclear waste, that lifetime extends to hundreds or even thousands of years.
On these timescales, Indonesia is likely to be at war with someone or another – even if just as an ally. Indonesian nuclear power plants could then be used against itself, either as targets for radiological bombs or as sites of terror to manipulate the Indonesian government.
Even if Indonesia avoids war with other nations during the long life of a nuclear power plant, the plant will still be vulnerable to terrorist attacks. A foreign or local terrorist would not need to launch a missile at an Indonesian power plant to create a nuclear disaster – he could simply steal a civilian plane and crash into it at high speed.
Russia is also one of the main candidates to be Indonesia's nuclear supplier state, providing nuclear fuel for these plants and providing technical and safety advice to Indonesia.
Given how Russia has entangled and manipulated Ukraine with nuclear security threats during the current conflict, Indonesia could face a similar pattern of abuse in any nuclear deal with Russia.
Even though Indonesia and Russia remain friends, Russia's state-sponsored nuclear sector experiences ups and downs whenever Russia engages in a foreign conflict.
This can weigh on trade relations with client countries, including Indonesia. In the short term, the pressure could jeopardize the successful or safe completion of a Russian nuclear power plant in Indonesia. In the long term, this could affect the operation and maintenance of power plants, including the management of nuclear waste.
Ukraine is currently facing extreme versions of these problems with an aggressive Russia, as it fights for independence in a nuclear-contaminated country. The clear message for Indonesia is this: it is best to forget about nuclear energy altogether if you want to encourage clean struggle in the future.
***
The author is Lecturer in Environmental Social Sciences, Faculty of Social Sciences and Humanities, Mahidol University
This article is republished from the Conversation under Creative Commons license.