President calls on army and police to quell conflicts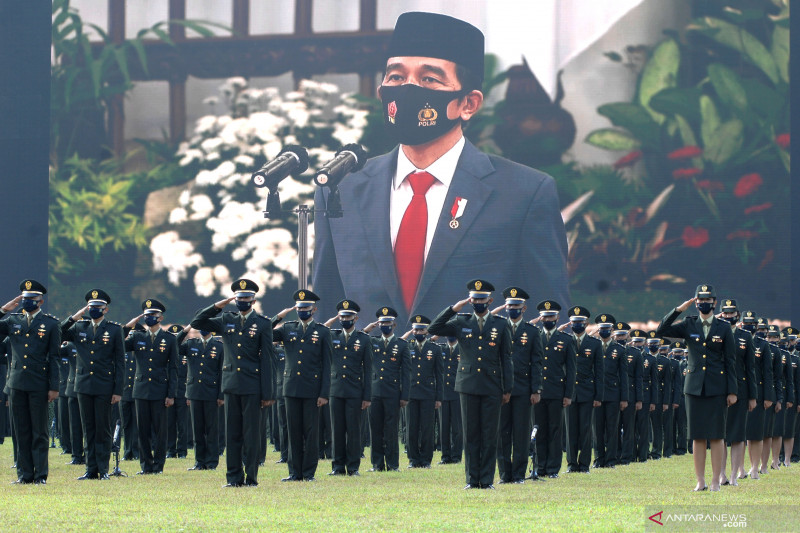 This (conflict between TNI and Polri) is prohibited from happening in the future.
Jakarta (ANTARA) – President Joko Widodo (Jokowi) has called on the Indonesian National Defense Forces (TNI) and the National Police (Polri) to clear any conflicts between them in the future.
"Sometimes friction between TNI agents and Polri still arises. This is prohibited in the future. It must be eliminated, "President Jokowi said at the Jakarta State Palace on Tuesday.
The Head of State delivered the message during the ceremony of Prasetya Perwira (Praspa) 2021, inauguration of TNI and Polri graduates of the academy held virtually. However, the event still invited top graduates from each military and police academy as representatives.
The inauguration attendees also included Vice President Ma'ruf Amin; the minister responsible for the coordination of political, legal and security affairs, Mahfud MD; the commander of the Indonesian defense forces, Marshal Hadi Tjahjanto; the head of the Indonesian police, General Listyo Sigit Prabowo; the Chief of Staff of the Army Jenderal TNI Andika Perkasa; the Chief of the Naval Staff, Admiral Yudo Margono; The Chief of Staff of the Air Force, Marshal Fadjar Prasetyo; as well as other relevant officials.
"TNI and Polri are crucial institutions in maintaining the defense and security of the Republic of Indonesia. Therefore, they must continue to cooperate and coordinate for the benefit of the nation, state and people of Indonesia." , underlined the president.
Related news: Synergy between crucial elements in a context of global competition: President
Related news: Foreign ministry monitors security situation in Afghanistan
Jokowi stressed that unity and integrity are the nation's main assets in facing increasingly tough global competition.
"It is impossible for us to win the global competition if there is no strong synergy within the country. Social and cultural diversity must be used as our strength and our source of inspiration," he said. asserted.
To this end, the president called on all parts of the nation to consolidate as "incorporated Indonesia" for a firm stand amid increasingly fierce global competition.
"I ask all institutions to synergize to accomplish this incredibly difficult task, especially between TNI and Polri. Other departments must also cooperate in favor of the nation and its development," noted the president.
The head of state estimated that this COVID-19 crisis could strengthen the concern and cooperation of TNI and Polri.
"We must also improve our work ethic and accelerate the advancement of our technology and our industries," he said.
The president also asked the young graduates of TNI and Polri to participate in the fight against the crisis. "You should learn the lessons of this crisis to strengthen our unity on the basis of our Pancasila ideology," Jokowi said.
A total of 700 young TNI and Polri officers were inaugurated during the event.
Some 227 new officers graduated from the Military Academy, 101 officers from the Naval Academy, 91 officers from the Air Force Academy and 281 officers from the Police Academy.
Related News: President Jokowi Inaugurates 700 TNI, Polri Graduates
Related News: President Jokowi Highlights Continued Economic Reforms