OU Women's Gymnastics: No. 2 Sooners take out TWU, Air Force and Southeast Missouri State on the road | Sports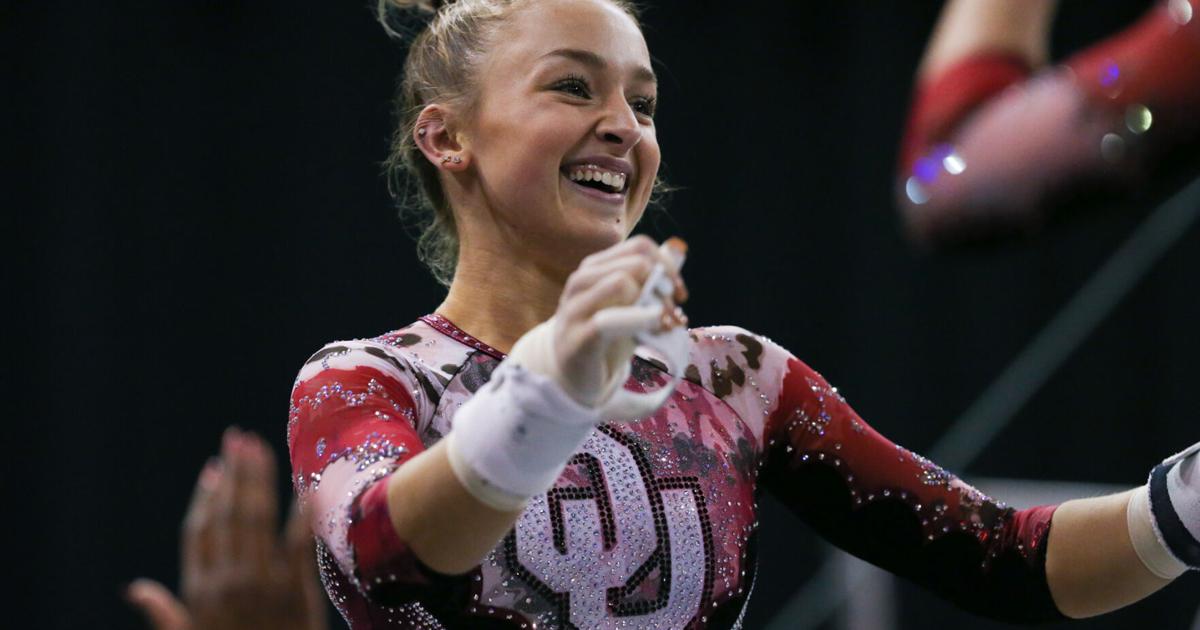 No. 2 Oklahoma (11-2, 1-0 Big 12) beat Texas Woman's University (7-11), Air Force (3-5) and Southeast Missouri State ( 1-11) in a quadruple meet in Denton, Texas on Sunday.
OU placed first with a 198.075, topping the 198 mark for the fifth time this season. TWU placed second with a 195.725, Air Force placed third with a 195.700 and SEMO rounded out the field with a 193.425. Sophomore Audrey Davis won the all-around title in the competition with a 39.400.
After an upset 198.475-197.900 win over No. 1 Michigan (12-1, 9-0 Big Ten) on Friday night, the Sooners entered Sunday's game with just one day off.
Debuting on bars, rookie Danielle Sievers opened with a 9.9. Sophomore Katherine LeVasseur earned a 9.8. Junior Ragan Smith added a 9.825, leading to a batting from fifth-year senior Karrie Thomas for a 9.925.
Freshman Jordan Bowers posted a team high 9.95 with Davis earning a 9.875 to close on bars. With a 49.475, OU headed into the second rotation on beam with a .475 lead over second place TWU.
Junior Jenna Dunn started on beam and scored 9.875. Senior Olivia Trautman followed with a 9.925 and LeVasseur posted a 9.9 in third place. Davis added a 9.825 that was followed by a 9.875 from fifth-year senior Carly Woodard. Smith finished the event with a 9.975 and extended the Sooners' overall lead to 1.300.
In the third floor event, second Bell Johnson opened with a 9.9. Davis called and had a 9.875, leading to a 9.925 from Sievers. Woodard added a 9.925 and rookie Danae Fletcher also leveled off with a 9.925. Smith replaced LeVasseur on the floor and tallied a 9.925, rebounding from an uncharacteristic 9.050 against Michigan.
Going into the final rotation on vault with an overall lead of 1.975, Davis started with a score of 9.825. A drop from sophomore Sheridan Ramsey led to a 9.3 before senior Allie Stern scored a 9.875 and Bowers posted a 9.975, close to replicating her perfect 10 from the Michigan meet. LeVasseur scored 9.875 and Sievers finished the afternoon with a 9.9.
Next, Oklahoma stays on the road and takes on No. 7 Arizona State (5-3, 5-2 Pac 12) and No. 23 Boise State (7-4, 3-3 Mountain West) at 8 p.m. CT on Friday March. 11 in Tempe, Arizona.