No major surprises as Air Force football releases depth chart for Saturday season opener | Sports blanket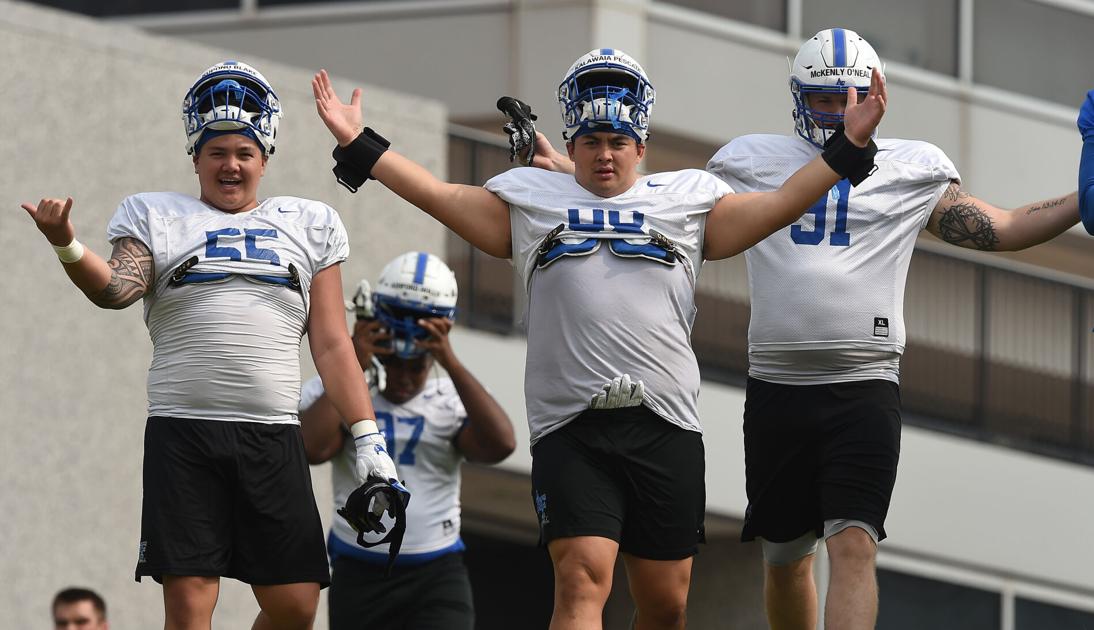 Haaziq Daniels will debut as Air Force quarterback again, Brad Roberts will pull off the rare half-back / kick-returner combo, and six players remain crammed in the competition for cornerback spots .
These are the main takeaways from the Air Force's depth chart for the season opener against Lafayette, which was released on Tuesday.
The projected entries matched the depth map released in late July, with a few exceptions. Roberts is now listed as the starting full-back instead of the full-back (pushing Omar Fattah to the No.2 back and Jordan Gidrey to the No.1 back), Micah Davis has passed Ben Jefferson as receiver and in defense Alec Mock (inside linebacker), and Trey Taylor (strong security) settled in the starting places.
Roberts, who led the Air Force in a rush, is also listed with Gidrey as the starting kickoff returner. While this might seem like an odd pairing with the full-back position, it speaks more to Roberts 'speed (he was a track star at Arvada in high school) and the Falcons' ever-changing way of using their full-backs. .
Coach Troy Calhoun released the depth chart after he finished speaking to the media on Tuesday. He was asked about the quarterback position ahead of the reveal.
"Really three guys have got most of the job so far," said Calhoun, who listed Daniels as a starter and Warren Bryan senior or second Zach Larrier as a substitute. "And that's still more than three. We realize how invaluable it is to have depth in every position.
"When we go out there on Saturday, whether it's Warren or Haaziq or Zach or any of the other guys, we've really, really been very diligent in monitoring who has had which reps and why. … We're trying to get some guys to move forward.
The depth chart is by no means binding and the Air Force could start playing unlisted players on both depths if it chooses to do so. The position that would most likely have a starter other than the one listed would be inside linebacker, where Alec Mock is listed as a starter on TD Blackmon. A source said Blackmon missed a bit of training time due to injury but could come back on Saturday and start.
At the cornerback, Milton (Tre ') Bugg III and Zion Kelly continue to be listed as starters. But in a move that exemplifies the competition on the spot, the team placed three players on both depths at both locations. Bugg is supported by his senior colleagues James Jones IV and David Eure – all former three-star recruits. Kelly is assisted by Eian Castanguay and Michael Mack II, two second year students.
As the kicker assigned to manage kickoffs, the Falcons list Luke Wieland, a Colorado Springs native and Pine Creek graduate. So if Air Force ends up kicking off to open the game, the season will kick off at the foot of a local product.
The Air Force's opening opponent is Lafayette College, an NCAA Football Championship division team located in Easton, Penn. – not to be confused with the Football Bowl Subdivision team based in Lafayette, Louisiana. Thus, Hurricane Ida will not be a variable to consider this week, although that does not mean that the coast is still entirely clear. Georgetown, who plays in the Patriot League with Lafayette, announced on Tuesday that it was canceling its opener against Maris on Saturday for COVID-related reasons.
---
Air Force Week 1 Depth Chart
OFFENSE
Start working on
Ryan Booth, Sr. (6-5, 280)
Mark Hiestand, jr. (6-5, 285)
Guardian
Hawk Wimmer, sr. (6-4, 330)
Isaac Cochran, sr. (6-5, 320)
Center
Jason Medeiros, jr. (6-0, 270)
Ben Mercer, sr. (6-0, 280)
Guardian
Isaac Cochran, sr. (6-5, 320)
Ayden McColloug, then. (6-3, 265)
Start working on
Everett Smalley, then. (6-3, 265)
Kaleb Holcomb, then. (6-4, 265)
YOU
Kyle Patterson, jr. (6-6, 245)
Dalton King sr. (6-3, 215)
QB
Haaziq Daniels, jr. (6-1, 200)
Warren Bryan, sr. (6-1, 205) -or-
Zach Larrier, then. (6-0, 195)
FB
Brad Roberts, jr. (5-11, 205)
Omar Fattah, jr. (5-11, 215) -or-
Emmanuel Michel, jr. (5-10, 215)
TB
Jordan Gidrey, then. (5-6, 175)
DeAndre Hughes, jr. (5-8, 170)
WR
David Cormier, jr. (6-3, 225)
Jake Spiewak, sr. (6-4, 200)
Brandon Lewis, sr. (5-9, 175)
WR
Micah Davis, then. (5-11, 175)
Ben Jefferson, jr. (5-11, 190)
---
DEFENSE
DL
Jordan Jackson, father. (6-5, 285)
McKenly O'Neal, sr. (6-3, 255)
NG
Elijah Brockman, jr. (6-3, 275) -or-
Kalawai'a Pescaia, jr. (6-0, 295)
DL
Christopher Herrera, jr. (6-5, 275)
Kolby Barker, sr. (6-4, 280)
OLB
Lakota Wills, sr. (6-3, 235)
Caleb Humphrey, sr. (6-3, 240)
HE B
Alec Mock, then. (6-3, 230)
TD Blackmon, jr. (6-1, 225)
HE B
Demonte Meeks, sr. (6-1, 240)
Johnathan Youngblood, then. (5-11, 225)
Bo Richter, then. (6-2, 240)
OLB
Vince Sanford, jr. (6-1, 210)
Ethan Erickson, jr. (6-2, 205)
CB
Milton Bugg III, sr. (6-0, 180)
James Jones IV, sr. (6-2, 195) -or-
David Eure, sr. (5-11, 185)
SS
Trey Taylor, then. (6-0, 205)
Jalen Mergerson, then. (5-11, 200)
FS
Corvan Taylor, sr. (6-2, 205)
Camby Goff, therefore. (6-1, 195)
CB
Zion Kelly, jr. (5-10, 190)
Eian Castanguay, then. (6-0, 185) -or-
Michael Mack II, therefore. (6-1, 180)
---
SPECIAL TEAMS
package
Tevye Schuettpelz-Rohl, sr. (5-10, 185)
Anthony Rodriguez, then. (5-9, 200)
KO
Luke Wieland, then. (6-0, 195)
Cole Johnson, jr. (5-11, 165)
P
Charles Bein, then. (6-3, 190)
Carson Bay, fr. (5-11, 165)
LS
Jacob Goldberg, sr. (6-0, 240)
Brendan Bentley, jr. (6-2, 245)
H
Charles Bein, then. (6-3, 190)
RP
Micah Davis, then. (5-11, 175)
Jake Spiewak, sr. (6-4, 200)
KOR
Jordan Gidrey, then. (5-6, 175) -and-
Brad Roberts, jr. (5-11, 205)