Newly Redesignated 97 CONS> Altus Air Force Base> News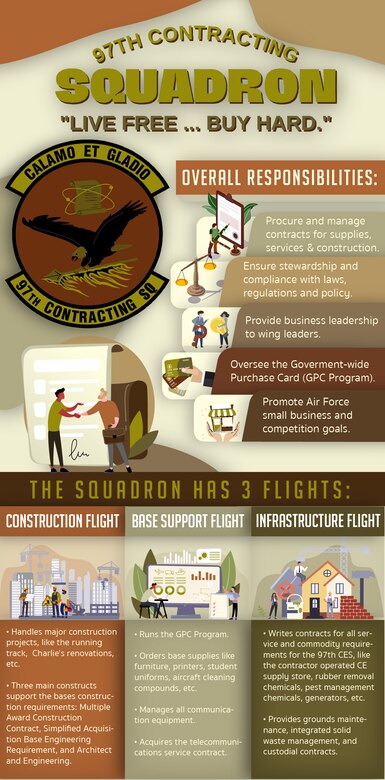 ALTUS AIR BASE, Oklahoma –
When it comes to maintaining a military installation, there are thousands of crucial services and tasks that must be accomplished in order for the mission to continue.
Make purchases with a government acquisition card. Repair structures such as a water tower or a dining room. These are all important aspects of running a base, but what do these tasks have in common? They are all made possible by the newly redesignated 97th Contracting Squadron.
The 97th Contracting Squadron was renamed the squadron by Col. Blaine Baker, commander of the 97th Air Mobility Wing, on August 3, 2021. "We were already functioning as a squadron would," said Master Sgt. Christian Ates, 97th conscript leader. "Our mission, our workforce and our capabilities have not changed. It just allows us to better represent ourselves on the wing.
The 97th CONS is broken down into three flights, which were once components: Base Support Flight, Construction Flight, and Infrastructure Flight.
Base Support Flight helps provide base items such as computers, printers, student uniforms, aircraft cleaning supplies, medical supplies, furniture, cold weather gear , KC-46 bed rack, hand sanitizer, germ-killing robot, engine mounts, historic aircraft painting and corrosion control, and more.
"The $ 30 million basic telecommunications service contract also falls under this flight," said Major Jonathan Esquivel, commander of the 97th CONS. "We also manage the GPCs, which has a big impact on the base. There are millions of dollars in supplies throughout each year that all units purchase with a GPC. It is certainly a huge capacity that we provide.
The construction flight handles most of the construction projects that take place throughout the year. A few projects they've completed this year include renovating the interior and pavilion at Charlie's Lounge, redesigning the athletics track, and repairing water towers and reservoirs.
The infrastructure flight deals with plans and programs, and manages all service and product requirements for the 97th Civil Engineer Squadron, such as chemicals for rubber removal, chemicals for warfare pest control and generators.
They are also in charge of the three biggest contracts for installation, which are grounds maintenance, conservation and waste and recycling. All this is in addition to the small services and other projects they manage, such as the covered parking of the dormitories.
"Think about if you took away all of the supplies from each organization," Esquivel said. "So how difficult would it be to accomplish the mission?" Now remove anything a contractor is doing around your facility. Our success as a wing centers on working with all units, and contracts play a huge role in that equation.
In addition to ensuring mission success, the 97th CONS plays a major role in the quality of life for Airmen and their families while at Altus AFB.
"We have a direct hand in realizing the wing's vision for a first-time installation by allowing projects to come to fruition," said Esquivel. "We buy quality of life improvements every year based on management priorities. Recent and historic purchases include: the climbing wall and new dolphin slide at the pool, road repairs, troop walks, awnings at the Excellence Park, club ballroom and ground of the black horse.
So next time there's something new on the base, thank the 97th Contracting Squadron!