Navy rescues crew of KM Bagas Arsakhan on the ground in the Riau Islands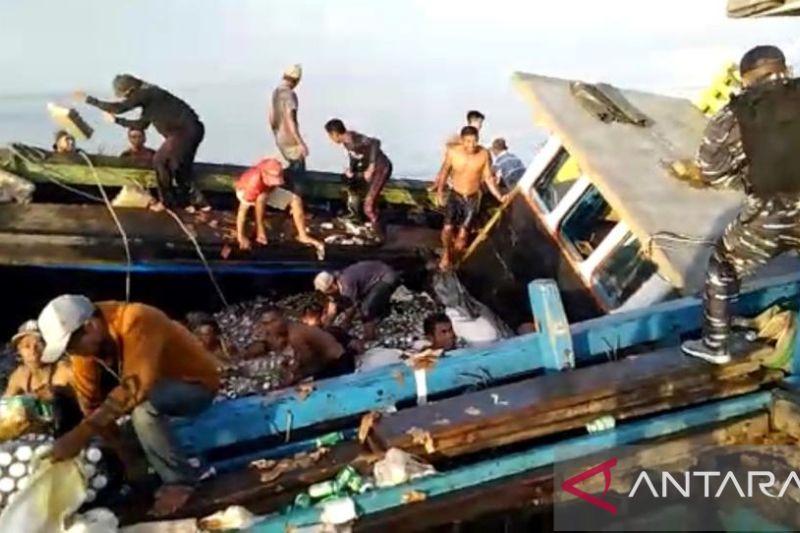 Batam, Riau Islands (ANTARA) – Indonesian Navy officers on Friday rescued the captain and crew of the boat KM Bagas Arsakhan which suffered a leak and ran aground in the waters of Pandan Island, in the province of the Riau Islands.
"The navy dispatched three sea launches – one from KRI Kujang-642 and two from Tanjung Balai Karimun naval base – and managed to rescue the captain and crews of the boat KM Bagas Arsakhan," Lt. Col. Commanding said. from Tanjung Balai Karimun Naval Base. Joko Santosa noted in his statement on Saturday.
The crew of the rescued boat was evacuated to KRI Kujang-642 and the naval base in the waters of Pandan Island, Karimun district, he noted.
When navy boats reached the ill-fated boat, it was half submerged, with most of the boat's cargo floating at sea, the commander revealed.
Santosa noted that KM Bagas Arsakhan, which was carrying 300 bags of sugar, 300 bags of sticky rice and 1,900 cases of canned drinks, suffered a leak while sailing from Tanjungpinang to Selat Panjang.
The leak caused the waters to permeate to reach the engine room and exposed the port side of the boat to the waters, he explained.
"Therefore, the sea water that had entered the boat could no longer be pumped out despite the use of a pump motor. The captain of the ship then decided to beach the ship on the coast of the island of Pandan," Santosa remarked.
Meanwhile, Navy Commando Armada I Chief Rear Admiral Arsyad Abdullah hailed the swift action of navy officers in rescuing the crew members of KM Bagas Arsakhan.
"We expressed our condolences to those affected by the incident of the KM Bagas Arsakhan boat in Pandan Island, Karimun District, Riau Islands, but we also expressed our relief that all the crew members of the boat were successfully evacuated," Abdullah said.
The head of the armada commando reiterated the will of the naval officers not only to preserve maritime sovereignty but also to rescue boats in distress.
"The rescue operation is in line with Navy Chief Admiral Yudo Margono's instructions that naval officers should use all available resources for humanitarian tasks, such as disaster response and operations. search and rescue," he said.
Abdullah also confirmed that naval officers would carry out a safety watch on the ill-fated KM Bagas Arsakhan to prevent the sinking from harming maritime activities in the area.
Related News: Six sailors rescued by tuna fishing vessel arrive in Timika
Related News: Governor of the Riau Islands asks the government to revoke the quarantine for tourists
Related News: Riau Islands boost tracing to prevent PPKM level increase