Navy officers foil migrant worker smuggling to Malaysia in Dumai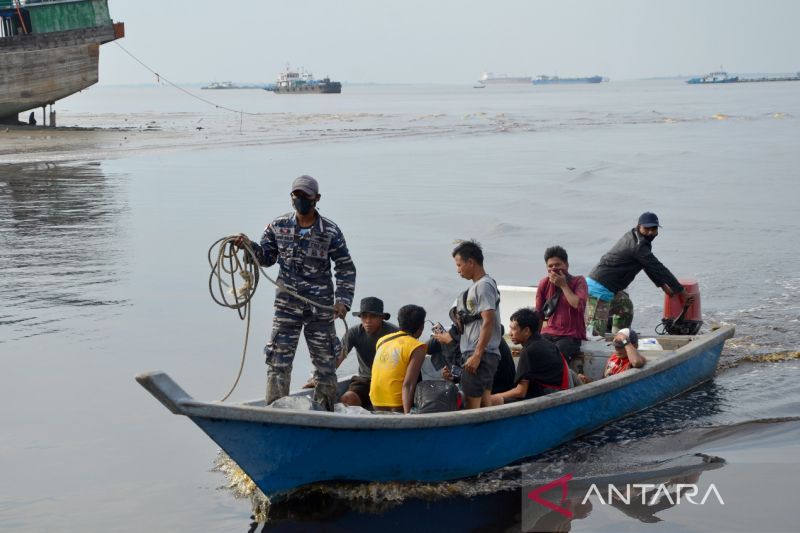 Dumai, Riau (ANTARA) – Officers from the Indonesian Navy Base (TNI AL) in Dumai, Riau thwarted the smuggling of seven Indonesian migrant workers to Malaysia who boarded an unnamed speedboat in the waters of Tanjung Sentau Hulu on the afternoon of March 21.
Dumai Naval Base Commander Colonel Himawan noted that the Naval Base team, led by the Technical Intelligence Sub-Unit Commander, First Lieutenant Fersy Angry, pursued the migrant workers, their officer and the boat crews who escaped to shore after abandoning their boat while being chased by the officers.
"We intercepted the boat as they were sailing towards Malaysia. We then continued to pursue the boat after they turned back to shore and ran aground on Sentau Hulu beach. 'succeeded in apprehending the migrant workers only by their agent and the boat crews fled the scene,' Himawan said in Dumai, Riau on Tuesday.
The migrant workers were then brought to a navy station in Tanjung Medang, Dumai and then handed over to the Indonesian Migrant Workers Protection Agency (BP2MI) for investigation, he said.
Following a tip from an agent, the naval base decided to follow up on the information by sending a team to patrol the waters of Tanjung Penyembal and intercept the boat, the commander noted.
The success of the Naval Base Dumai team in thwarting the smuggling of Indonesian migrant workers to Malaysia demonstrated the Navy's determination and vigilance to mitigate security threats in the respective jurisdictions as directed by the Chief. Chief of Staff of the Indonesian Navy, Admiral Yudo Margono, Himawan said.
The naval base team had also foiled an attempt to smuggle 22 illegal migrant workers to Malaysia by sea, he noted.
The naval base commander also urged prospective migrant workers to only seek legal ways to work overseas through recognized agencies.

Related News: BP2MI foils an attempt to smuggle 21 Indonesian illegal migrant workers
Related News: Riau police name two suspects in migrant worker smuggling case