Indonesian Army Provides Free Medical Services Near PNG Border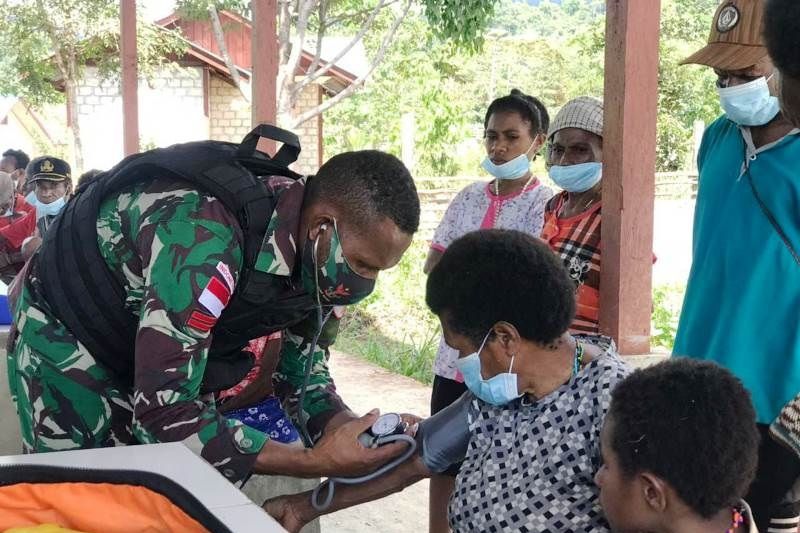 Keerom, Papua (ANTARA) – Indonesian military personnel provided free medical services to residents of Yuruf Kampong, Yaffi subdistrict, Keerom district, near the border between Papua province and Papua New Guinea .
The Indonesian Defense Forces (TNI) has always been concerned about improving the health of the people of Papua, Lt. Col. Ade Pribadi Siregar, commander of the Yonif 403 Border Security Task Force, said on Wednesday / Wirasada Pratista from TNI.
"TNI task force staff also advise locals to always exercise and eat nutritious foods, including fruits, for their health," he noted.
In addition to providing medical treatment, TNI staff encourage the local population to adopt a healthy lifestyle.
Medical services include health consultations, general medical treatment, and supplies of vitamins, anthelmintics and face masks for elementary school students.
Elyana, 39, resident of Yuruf Kampong, expressed her gratitude for the free medical services offered by TNI staff.
"Until now, the gentlemen of TNI are still present and regularly provide free medical services in our kampong. They remind us to always follow a healthy lifestyle," she noted.
Meanwhile, the commander of the Joint Regional Defense Command (Kogabwilhan) III, Lt. Gen. Agus Rohman noted that religious, customary and community leaders in Timika, Mimika district, agreed that the presence of the he Indonesian army is necessary for the development of Papua.
Meeting with local leaders was part of Rohman's agenda during his visit to Timika to review the progress of the construction of the Kogabwilhan headquarters on Tuesday.
To meet demand from local residents, construction work on the Kogabwilhan headquarters and supporting facilities will be accelerated, Rohman noted, adding that the military headquarters should be ready by August of this year.
"Shortly after its completion, it can then be inaugurated. This is why I hope that its construction work will be accelerated, "he said.
During his visit, Rohman also observed a COVID-19 vaccination campaign and swab testing at a military hospital in Timika, the capital of Mimika district.
Related News: Police chiefs and military to meet displaced people in Timika, Papua
Related News: Soldiers in Papua Help Build Asy-Syifa School
EDITED BY INE