Indonesian Air Force's 76th anniversary commemorated in Yogyakarta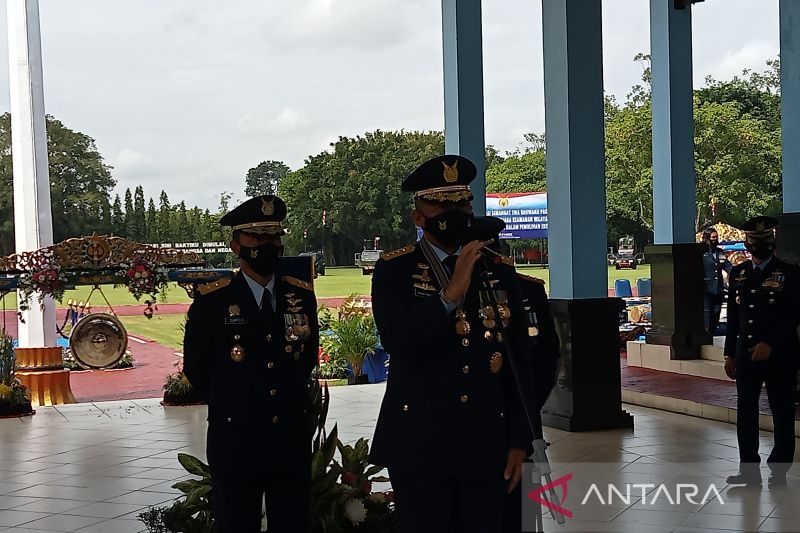 ​​​​​​​All praise be to God that the ceremony and demonstration of the flypast went off smoothly and safely,
Yogyakarta (ANTARA) – The Indonesian Air Force (TNI AU) on Saturday held a ceremony to commemorate its 76th anniversary at the Air Force Academy (AAU) in the city of Yogyakarta, province of Yogyakarta.
Air Force Chief of Staff Marshal Fadjar Prasetyo made the remarks during a press briefing at the AAU Aerospace Field here on Saturday.
The commemoration was themed "Based on the Spirit of Swa Bhuwana Paksa (means the wings of the nation), TNI AU stands ready to maintain airspace security and support government programs to revive the national economy.
"We should be very grateful that we were able to perform a number of aircraft demonstrations at the commemoration ceremony for the first time in two years (due to the pandemic), although the event was implemented with strict health protocols and a limited number of guests," he said.
Aircraft that took part in the flypast demonstrations included trainer aircraft from Adisutjipto Air Base in Yogyakarta.
"All praise be to God that the flypast ceremony and demonstration went off smoothly and safely," Prasetyo remarked.
He also expressed his gratitude to the Governor of Yogyakarta, Sri Sultan Hamengku Buwono X, for his donations.
The gifts included a set of traditional Javanese ensemble musical instruments (locally called gamelan) and Polynesian chestnut seedlings (Fagifer Inocarpus), Manilkara kauk (locally called Sawo Kecik), kepel fruit (Burahol of Stelechocarpus) and Malaysian rose apple (Malaccense Syzygium).
The governor presented 100 seedlings of each tree.
"The plants will green the AAU environment. In addition to the AAU, I will donate the tree seedlings to other TNI AU educational institutions since we need to preserve the plants and continue to make our environment green Therefore, the trees will benefit in the future," Kasau added.
Related News: Indonesian Air Force prepares pilots to fly Rafale fighter jets
Related News: Air Force Chief of Staff Receives Honorary Visit from CAF RAAF