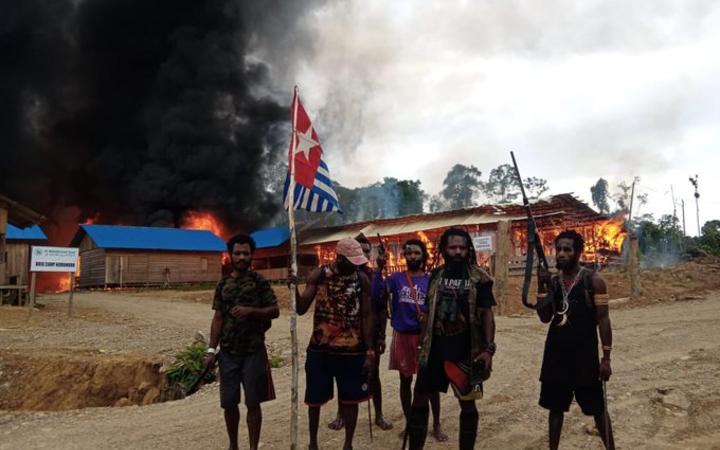 Indonesian logging camp burned down in West Papua
The West Papua Liberation Army said it burned down a logging company's base camp in Maybrat regency.
A faction of the independence army published photos of some of its members outside the burning premises of Indonesian company PT Bangun Katu Irian.
But police say the arson was committed by a company employee and investigations are ongoing.
Local Papuan communities have protested against the activities of logging companies which they claim are destroying traditional livelihoods without social permission.
Maybrat has been one of the focal points of the armed conflict between Liberation Army fighters and Indonesian security forces, with thousands of villagers displaced after violence escalated in September.
Tonga's post-election government formation continues
It will now be the third week of December at the earliest before the Tongans know who their new leader will be.
Voters went to the polls on November 18 to elect 17 people's representatives, with the nobles choosing nine from their cohort.
Since then, there has been a period of intense bargaining, including the interim Prime Minister, Pohiva Tu'i'onetoa, and his former Minister of Education, Siaosi Sovaleni. have emerged as the candidates for the highest office.
The parliament was scheduled to meet this week to elect the prime minister, but our correspondent informs that this date has been postponed by two weeks.
Many unvaccinated American Samoan government employees
Many high-level government workers in American Samoa have yet to be fully vaccinated against Covid-19 despite the mandate that took effect last month.
Human Resources Director Lynn Pulou-Alaimalo says of the 5,019 employees in the executive branch in American Samoa, only just over half (1931) have been fully vaccinated.
Gov. Lemanu Peleti Palepoi Mauga told cabinet it was difficult for the government to ask the public to get vaccinated when there were still officials left to be fully vaccinated.
The governor also asked the Department of Education to check teacher vaccination rates, as about three-quarters of teachers in public schools in American Samoa have been fully vaccinated.
Former Nauru president Clodumar has died
Former Nauru President Kinza Clodumar has passed away at the age of 76.
He was president from February 1997 to June 1998.
Clodumar has also held several ministerial portfolios including that of Minister Assistant to the President, Finance, Nauru Phosphate Royalties Trust, Foreign Affairs, Justice and the Environment.
Outside of parliament, Clodumar has held many positions as chairman of companies such as Nauru superannuation and Nauru Air Corporation.
He is survived by his wife Miroslawa, five children, seven grandchildren and two great grandchildren.
Star Marianas Air suspends inter-island flights at CNMI
Star Marianas Air has suspended all inter-island flights in the Northern Mariana Islands after news that Covid-19 has spread to Tinian Island.
The Tinian-based carrier said that due to the risks presented by an unhealthy flight environment, it is immediately suspending all business operations until further notice.
Star Marianas says he works with clients who have existing reservations for refunds and cancellations.
This is the first time that cases of Covid-19 have been detected on Tinian. Previously, there were residents of Tinian who tested positive, but these were inbound passengers returning to CNMI.
The positive cases on Tinian come as the Commonwealth Healthcare Corporation reported that 43 other people had been identified and confirmed positive for Covid-19.
This brings the Northern Mariana total to 855.
Support for more NZ Pasifika in home ownership
Pacific organizations in Aotearoa have received a financial boost to help more Pasifika homeownership.
The New Zealand government will distribute more than $ 41 million over the next four years to 15 budgeting and financial services specialists.
The goal is to improve housing conditions and home ownership for the peoples of the Pacific through an understanding of financial literacy.
Organizations that have received the increased funding include The Mortgage Hub Pasifika, Tangata Atumotu, and Pasifika for Tomorrow.
Batram Suri appointed manager of the Solomons women's football team
Former professional footballer Batram Suri has been appointed manager of the Solomon Islands women's team.
Suri coached the Solomon Islands men's under-19 team to the semi-finals of the Oceania Under-19 Championship in 2018, and also coached the country's men's under-23 team. .
Suri, who has represented Solomon Islands as a player in 48 games, says it will be a big challenge.
Since the beginning of November, the women's team have been training three times a week and are currently working to create a team philosophy that reflects the system of their male counterparts.