Deceased soldier buried at Cikutra Heroes Cemetery in Bandung City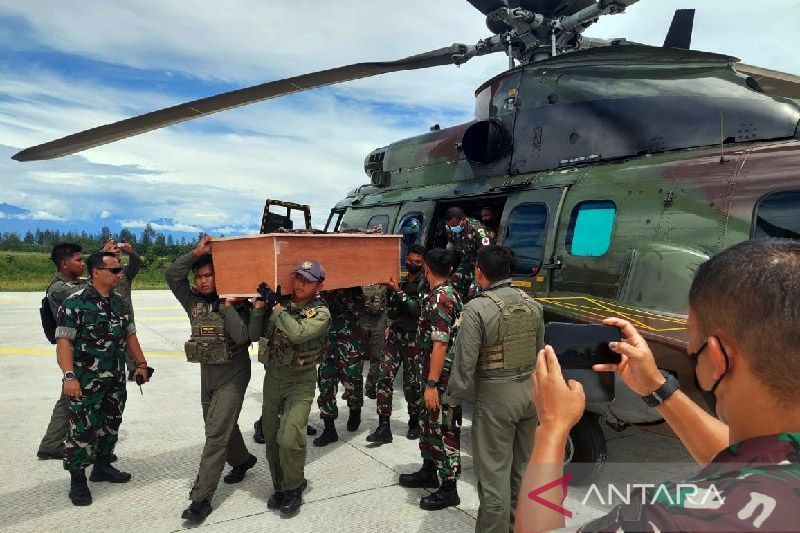 The Vice President coordinated with the TNI Commander (General Andika Perkasa) to handle (the matter) properly in coordination with stakeholders, security agencies and local governments
Bandung, W Java (ANTARA) – Indonesian Army Chief of Staff, General Dudung Abdurachman, led a military funeral procession for the deceased soldier, First Sergeant Rizal Maulana Arifin, 24, who was buried at Cikutra Heroes Cemetery here, Saturday.
Arifin was one of three soldiers killed in an ambush, launched by several armed Papuan separatist terrorists, at their military post in Gome sub-district, Puncak district, Papua, Thursday January 27, 2022.
Arifin was laid to rest at the Cemetery of Heroes to honor his service to the nation and the state, General Abdurachman said as he led the military motorcade for the fallen soldier.
Abdurachman expressed his deepest condolences over the deaths of the three soldiers and donated 50 million rupees to Arifin's family.
Related News: Bodies of 3 deceased servicemen taken to Timika, Papua
The coffin of the deceased hero arrived at the mourning house in Dayeuhkolot sub-district, Bandung district, West Java province on Friday evening after being transported from Papua.
Vice President Ma'ruf Amin on Thursday morning responded to the deadly ambush on Bukit Tepuk military post, Jenggernok village, Gome sub-district, which resulted in the death of the three brave soldiers.
Amin urged the Indonesian Defense Forces (TNI) to coordinate with the Papua provincial government and local social figures to ensure security.
"The vice president has coordinated with the TNI commander (General Andika Perkasa) to handle (the matter) properly in coordination with stakeholders, security agencies and local governments," the doorman said on Friday. -spoken by the vice-president, Masduki Baidlowi.
Related News: TNI Commander Briefs Lawmakers on Strategic Changes in Papua
The deadly ambush had resulted in the death of Arifin and his two other colleagues, the second soldier Baraza and private Rahman, and injuries to the first soldier Syaiful.
Papua has witnessed a repeated cycle of violence, with armed groups in Intan Jaya, Nduga and Puncak districts targeting civilians and security personnel in recent years.
Intan Jaya recorded its bloodiest month in September 2020, with armed groups launching a series of attacks in the area that claimed the lives of two soldiers and two civilians and injured two others.
Related News: TNI Commander stresses importance of pre-service training in Papua
Acts of terror continued in 2021. On January 10, 2021, an Indonesian soldier died in a shootout in the Titigi area of ​​Intan Jaya district.
On April 25, 2021, Papuan separatists, operating in Beoga, ambushed State Intelligence Agency (Papua) Chief I Gusti Putu Danny Karya Nugraha and several security personnel during their visit in the village of Dambet.
Nugraha died from gunshot wounds sustained in the attack.
Related News: Vice President asks TNI to step up coordination after ambush posted in Papua
Related News: Normalcy has returned to eastern Indonesia, says security minister