Air Force's successful evacuation of Indonesians should be emulated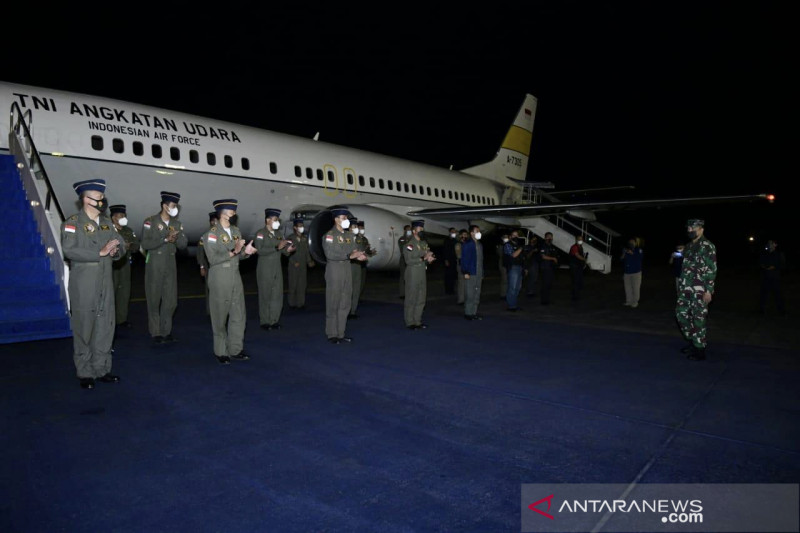 [ad_1]
The global evacuation team included soldiers from the TNI, members of the State Intelligence Agency (BIN) and the Indonesian Ministry of Foreign Affairs.
Jakarta (ANTARA) – The Air Force's success in evacuating Indonesians from Afghanistan should be emulated by other members of the Indonesian National Defense Forces (TNI), the head of state said on Saturday -Major of the Air Force, Air Marshal Fadjar Prasetyo.
Prasetyo noted that the Air Force units involved in the evacuation process had shown professionalism despite the short preparation time.
"I am very proud of all of you because with such rapid preparation, you were able to demonstrate professionalism. It is a matter of pride for the soldiers, who successfully carried out their operational tasks and returned home safe and sound", said Prasetyo on the apron of the Halim Perdanakusuma Airbase, as quoted in his written statement.
He said he was optimistic that professionalism would be exemplified by other members of the Indonesian Air Force.
"Even in uncertain conditions, soldiers can perform their operational tasks very well. It should be an example for others, "he said.
The humanitarian operation evacuated 26 Indonesian citizens as well as five Filipino nationals and two Afghan nationals from Hamid Karzai Airport in Kabul, Afghanistan, aboard a Boeing 737 Series 400 from Base Air Squadron 17. aerial Halim Perdanakusuma. The evacuation plane was flying with a "Kencana (Gold) Zero Four" signal.
Related news: Indonesia optimistic for peace and stability in Afghanistan: Retno Marsudi
During this time, the Air Force soldiers involved in the evacuation belonged to the corps of specialized forces of the Bravo 90 detachment.
The plane, carrying the evacuees, was piloted by Lieutenant-Colonel Aviator Corps Ludwig Bayu and Major Aviator Corps Mulyo and accompanied by six flight crew members on duty: Captain Aviator Corps Sang Made KY, First Lieutenant Aviator Corps RP Pratama A, First Lieutenant Aviator Corps Andhika, Engineering Second Lieutenant Suparno, Engineering Second Lieutenant Yusuf Affandi, Second Lieutenant Andromeda, Master Sgt Priyan Wahyu, Master Sgt Riyan Agieta, Master Sgt Budi R and First soldier Yulio A.
Meanwhile, six members of the Specialized Forces Corps of the Bravo 90 Detachment were Captain Pas Galih Pinto Nugroho, Second Sergeant Trenggono, Second Sergeant Yudi Aji Widagdo, Second Corporal Umar Haris, Chief Private Aidil Artawijaya and Private -Chief Ilham Dwi Laksana.
The comprehensive evacuation team included soldiers from the Indonesian Defense Forces (TNI), members of the State Intelligence Agency (BIN) and the Indonesian Ministry of Foreign Affairs.
Related News: Air Force Plane Brings Back Dozens Of Indonesians From Afghanistan
The government has decided to use military planes to repatriate dozens of Indonesian citizens to Afghanistan to ensure their safety and security, Foreign Minister Retno Marsudi said at a press conference at the airport on Saturday. Halim Perdanakusuma from here.
The Air Force plane took off from Halim Perdanakusuma Airport on August 18, 2021, around 6 a.m. local time. However, the landing permit at Hamid Karzai Airport in Kabul was not granted by local authorities until August 20, 2021.
The evacuation process took two hours, longer than the original 30-minute plan.
Related news: Challenges faced in rescuing Indonesians in Afghanistan: TNI
The route taken by the plane was from Jakarta to Aceh province then to Colombo in Sri Lanka followed by Karachi and then transited to Islamabad in Pakistan before finally reaching Kabul, Afghanistan.
In Islamabad, evacuation teams waited a long time for permission to land at Kabul's Hamid Karzai Airport from local authorities.
When taking off from Hamid Karzai Airport, the plane landed again in Islamabad to refuel before returning home by the same route: Karachi, Colombo, Aceh and Jakarta.
Related news: Including foreigners in the humanitarian obligation of the evacuation mission: FM
Related News: Expert Urges Indonesians Not to Divide Over Afghan Conflict
[ad_2]