Air Force recovers 2 fuel tanks that fell on Japanese city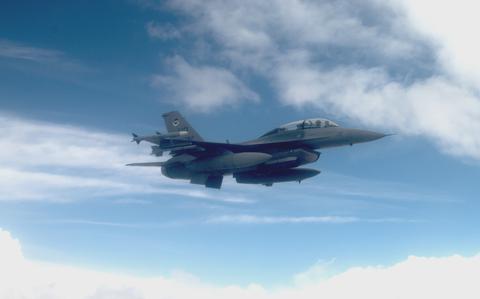 [ad_1]
An F-16D Fighting Falcon flies over the Utah desert on May 17, 2017 (Andrew Lee / US Air Force)
The Air Force has located two external fuel tanks that allegedly fell from an F-16 fighter in a coastal town in northeastern Japan earlier this week, according to a statement from Misawa Air Base on Thursday. .
The pilot dumped the tanks of the Fighting Falcon during an in-flight emergency before landing at Aomori Airport around 6 p.m. Tuesday, 35e said the fighter squadron in Misawa. The wing said the tanks would be returned to Misawa.
The plane landed without incident, but one of the tanks crashed near homes and town hall in Fukaura, about 100 miles west of the base, according to local police and the Defense Office of Tohoku. No injuries were reported, although police said a sidewalk handrail was damaged.
The wing initially reported that the tanks had fallen in a non-residential area, but later on Wednesday recognized that a tank had apparently fallen near the houses.
"The first fuel tank was found in the town of Fukaura" on Wednesday, according to the wing on Thursday. "The second fuel tank was found in a wooded area in the town of Fukaura and will be returned to Misawa AB by the recovery team."
The plane remains parked at Aomori Airport west of Misawa Air Base being inspected and repaired by a team from 35e Maintenance group, depending on the wing. He did not disclose the nature of the in-flight emergency.
The squadron did not respond on Thursday to a call made the day before by Japanese Defense Minister Nobuo Kishi to temporarily ground its F-16s until he confirmed that fighter jets can fly safely.
"We have maintenance, safety and environmental experts working around the clock to bring these fuel tanks and our planes back to Misawa safely," said Col. Timothy B. Murphy, 35 Wing vice-commander on Thursday. hunting, in a press release. "We appreciate the continued cooperation and understanding of our neighbors in Japan as we work on this incident."
The incident is under investigation, according to the wing. He said more details are to come.
The defense office protested the incident to the Misawa commander on Tuesday, calling it "extremely regrettable" and worrying for officials and local residents, a spokesperson for the office said. He asked the Air Force to identify the cause of the incident as soon as possible and to take preventive measures, she added.
Japanese government spokespersons usually speak to the media on condition of anonymity.
The F-16 remained on the runway until shortly after midnight Wednesday, prompting the cancellation of seven commercial flights on Tuesday evening, an airport spokesperson said. Commercial flights resumed Wednesday morning, he said.
[ad_2]