Air Force Jake Heidbreder looks younger than the competition and uses it to his advantage | Air Force Sports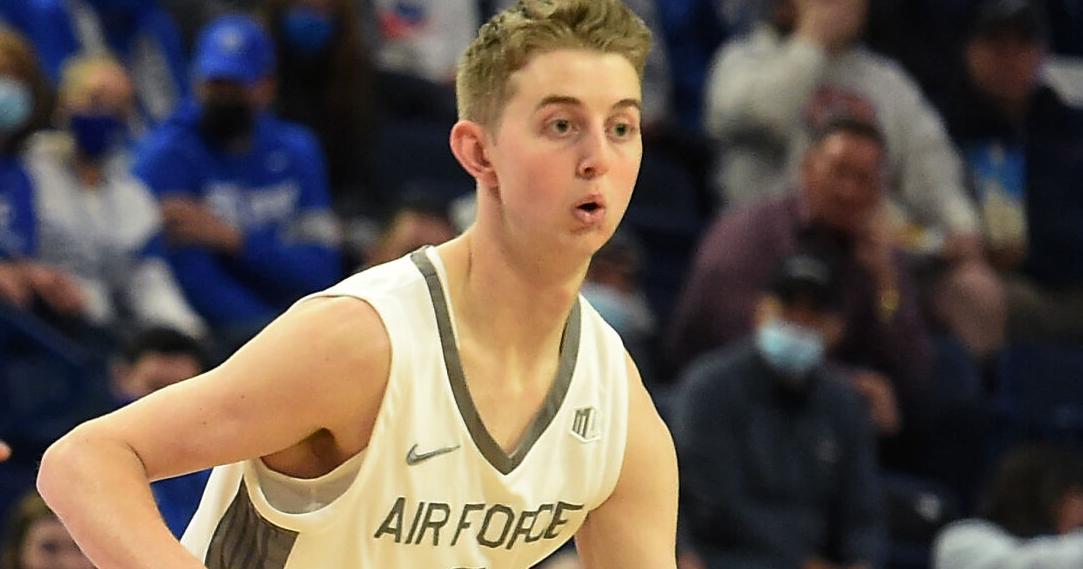 Jake Heidbreder won't be 19 for a month. He could pass for even younger. Opposing fans are always keeping him up to date on this.
"I saw something about how I could go to prom next week," the Air Force freshman guard said. "Things like that are just funny. I think it's all fun and games.
A photo direct-messaged to Twitter by a New Mexico fan, relayed to The Gazette in the middle of last week's Air Force game against the Lobos, zoomed in on Heidbreder's baby-faced appearance with a colorfully worded question that basically asked, "That guy? Really?"
Heidbreder scored 20 points in that game.
"I honestly think it helps me a little bit just because people underestimate me," said the 6-foot-5 Indiana native, whose Falcons (10-12, 3-8 Mountain West) play San Diego State (14-6, 6-3) at 6 p.m. Saturday. "I just go out and play my best every game. It doesn't matter how old I am or how young I just try to get out there and play every game.
Heidbreder is the only Falcon to start every game this season. His 9.6 ppg average is third on the team and on pace to be second-best for a freshman in the program this century (behind teammate Ethan Taylor, another current rookie). He is second on the team in assists (45), third in total rebounds (73) and his 26 turnovers in 21 games are the fewest on the team among the team's four players playing in average more than 20 minutes per game.
"I'm just happy with how it's gone through everything," he said.
Heidbreder's 20 points against New Mexico on Feb. 5 puts him in rare company for the Falcons. Over the past 15 years, the short list of freshmen with 20-point games includes Michael Lyons (the program's all-time leading scorer), Matt Mooney (who transferred and started in a Final Four for Texas Tech and saw action in the NBA) and AJ Walker (currently No. 9 on the school's scoring list and with a great shot to finish at No. 7).
But scoring isn't the first thing that comes to mind when coach Joe Scott thinks of Heidbreder's contributions.
"He's an Energizer bunny," said coach Joe Scott, who dug deep into basketball history to draw comparisons to John Havlicek and Bill Bradley. "He moves all the time. It just moves everywhere; hard to keep, you have to constantly keep it. And he can do things with the ball in his hands.
That comes as no surprise to Scott, who watched Heidbreder — albeit via video because of COVD-19 — as he played deep in the Indiana State playoffs last year.
"This guy's got something," Scott told himself at the time as the Air Force landed Heidbreder on nine other offers, mostly small D1 programs. "He's a basketball player. He's a gym rat.
Heidbreder's success in basketball was helped by his success adjusting to the academy after going straight in, instead of spending a year in prep school.
"I think managing the school side is so important," Scott said. "Because then, mentally, you don't get beat up in school. He does a good job there… You never know how they are going to be affected mentally and physically.
Heidbreder wants to be a pilot, hoping to one day fly big planes in the Air Force. Eventually, he could see himself returning to Indiana and flying for UPS at a hub near his hometown.
It's in the future. To see Heidbreder now is to see a young player with room to grow — maybe even physically, as his father, Hudson, a 1,000-point scorer at NCAA Division III Hanover College, still towers over him.
Scott envisions a player who will add physical strength, improving his game as a great guard. More importantly, he sees Heidbreder growing alongside Taylor as a pair of multi-faceted players who can be relied on for long minutes and as great examples to lead others and build around.
And that may be the roadmap to accelerating the maturity of the program which is still experiencing growing pains under a new coaching staff.
"You get two and you keep recruiting and building and you've got those things to point to," said Scott, who made the Air Force a Mountain West champion in his first stint from 2000 to 2004, " The next thing you know, you've got a bunch of guys who play like that."