1st Capital Bank opens a loan production office (LPO) in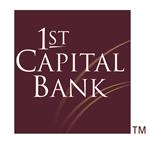 [ad_1]
SALINAS, Calif., July 25, 2019 (GLOBE NEWSWIRE) – 1st Capital Bank (OTC Pink: FISB) President and CEO Thomas Meyer announced 1st Capital Bank has opened a commercial loan office in Santa Cruz, California. The office is located at 3110 Mission Drive, Santa Cruz.
"We are extremely excited to enter the Santa Cruz County market," said Tom Meyer, President and CEO. "This gives us the opportunity to provide local businesses with competitive financing and cash management solutions to grow their business. We are fortunate to have several investment bankers who are long-time residents who have provided financing to businesses in the greater Santa Cruz market. These local investment bankers are part of the community and will do an outstanding job providing business owners with the credit, cash management and deposit services they need.
Jon Ditlevsen, Loan Manager, said, "Dean Austin is the General Manager for the Santa Cruz region and will manage the Santa Cruz Loan Production office. Previously with Wells Fargo Bank in Santa Cruz, Dean has over 21 years of experience in commercial lending. Additionally, Stuart Tripp, Regional President, has been a Commercial Banker in the Santa Cruz Market for over 27 years. They are both exceptional business lenders who understand the Santa Cruz business market. "
Austin is a director of the Dominican Hospital Foundation. He has also served on the Boards of Directors of the Santa Cruz County Business Council, the Santa Cruz Chamber of Commerce, the Scott Valley Chamber of Commerce, the Homeless Service Center and the Orchestra. Santa Cruz County Symphony.
Tripp sits on the board of directors of the Dominican Hospital Foundation. Previously, he served on the board of directors of the Santa Cruz Museum of Art and History, the Homeless Service Center, the Capitola Chamber of Commerce and the Aptos Chamber of Commerce.
In late fall 2019 (awaiting regulatory approval), 1st Capital Bank plans to open a full-service banking center there.
About 1st Capital Bank
1st Capital Bank's markets are commercial businesses, professionals, real estate investors, family businesses, and residents of the Central Coast region of California. The Bank offers a wide range of trade credit products, including loans under various government programs such as those provided by the US Small Business Administration ("SBA") and the US Department of Agriculture ("USDA"). A full range of deposit accounts are also provided, complemented by strong cash management services. The Bank operates full-service banking offices in Monterey, Salinas, King City and San Luis Obispo. The Bank's head office is located at 150 Main Street, Suite 150, Salinas, CA 93901. FDIC Member | Equal Opportunity Lender | SBA's Preferred Lender | 1stCapital.Bank | 831.264.4000
For more information:
David A. Szafranski
[email protected]
831.264.4022
[ad_2]